Books in print:
What the Raven Said
Jane Galer, Medea Isphording Bern May 2023 hardcover $40.00 ISBN 978-0-9981323-7-2
Forward & In the Dark
Jane Galer May 2021 hardcover $24.00 ISBN 978-0-9981323-6-5
Spirit Dogs: How to Be Your Dog's Personal Shaman
Jane Galer Nov 2016 paperback $13.00 ($17.00 CAN) ISBN 978-0-9981323-0-3
Becoming Hummingbird: Charting Your Life Journey the Shaman's Way
Jane Galer Feb 2011 softcover $17.50 ($18.95 CAN) ISBN 978-0-9845697-0-0
The More We Get Together: The Sexual and Spiritual Language of Love
Robert McDowell Oct 2011 hardcover $20.00 ISBN 978-0-9845697-1-7
Simon and the Orange Scarf
Katherine Lewis Dec 2011 hardcover $24.00 ISBN 978-0-9845697-4-8 (Out of Print)
The Spirit Birds
Jane Galer Oct. 2012 poetry, softcover $18.00 ISBN 978-0-9845697-2-4
Spirit of the Swan
Mary Lundeberg & Tammy Wolfe. Nov. 2012. softcover. ISBN 978-0-9845697-5-5.
Poi'ah sis n. Greek. a creation, beginning, the root word for poetry, as in a bringing forth
Welcome to Poiêsis Press. Our aim is to distill creative fire into ink on paper wherever we find it, helping the undiscovered bring forth. We want to publish work that empowers the feminine strengths of earth, of care, of wisdom, of cooperative effort that inspires for the sake of the muse, for the sake of the heart, not for the sake of profit. The focus of this imprint is on poetry and spirituality.
We view the creative process as the complicity between the energies of muse and of mind. It is this commingling of energy that we think of as poiêsis. Very much in alignment with the Heideggerian existential ideas of being as an evolutionary process, circular or even spiral in motion, we see poiêsis as creation in its becoming. As such Poiêsis Press is dedicated to care-taking the energy of artistic creation not feeding from it. We seek by what we publish to understand the complicated intercourse of word and art: the distillation of the creative urge into ink on paper.
Poiêsis Press takes its model from the intimate work style of Bloomsbury– friends working and supporting each other cooperatively, small press endeavors with high ideals and a backbone of generosity and nurturing. Many of our projects are done with a direct not for profit fund raising agenda, whether in support of an artist in need, or of a community struggling to enter the modern age. Like the pebble thrown into the still pond, we hope by our small efforts that we will see ever widening sensitivity and appreciation for the global village of writers, poets, and artists who struggle to show us a mirror of our path and our worth.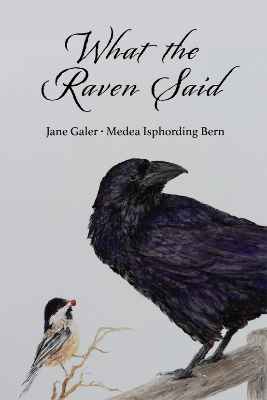 This is the natural history of a year of friendship in letters.
What the Raven Said is a daringly simple, poetically observant, yearlong chronicle of the day to day life of backyard wildlife. The book consists of an email exchange between two women who seek the solace of nature as a balm against the madness that exists "out there" beyond the bird feeder outside the window.
—Jon Turk, author of The Raven's Gift and Tracking Lions, Myth, and Wilderness in Samburu
In this fourth poetry collection, Galer has assembled new poems with a slight twist. The poems themselves highlight her animist spiritual realm, and the global threat of climate change, common themes in her work for decades. But, in addition, each poem is accompanied by an annotation, a small memoir of the various experiences and thoughts that made her stop in an ordinary day and bring forth a new poem. Readers of poetry will enjoy seeing the poet's process, and readers who might ordinarily pass on reading poetry but who enjoy reading memoir will appreciate this glimpse into the writing of a poem.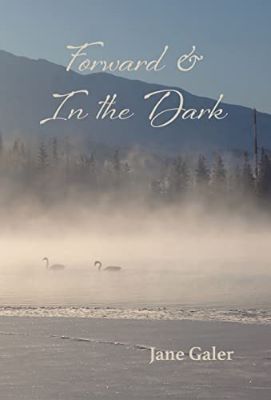 What the Raven Said
Jane Galer, Medea Isphording Bern May 2023 hardcover $40.00 ISBN 978-0-9981323-7-2
Forward & In the Dark
Jane Galer May 2021 hardcover $24.00 ISBN 978-0-9981323-6-5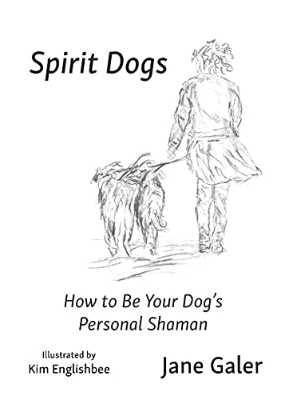 Spirit Dogs combines indigenous shamanic practices with Eastern philosophy of body chakras to offer dog owners an easy process with which they can analyse their own pet's energetic wellness. These simple processes teach dog owners how to check their dog's chakras, decouple the fight or flight response, heal energetic trauma, repair post surgical fear, and even guide the ultimate end of life process with calm grace and honor. This book shows easy to learn techniques that anyone can use. No New Age experience required! Beautifully illustrated with black and white drawing by artist Kim Englishbee.
Spirit Dogs: How to Be Your Dog's Personal Shaman
Jane Galer Nov 2016 softcover $13.00 ISBN 978-0-9981323-0-3